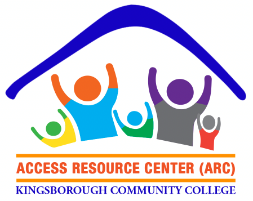 FREE Tax Preparation
We provide completely FREE tax preparation, even if you E-File, in room E-115 on Mondays through Thursdays between 10am and 3pm from late January until April 15th.
Walk-ins are welcome.
Access Resource Center also offers Virtual Tax Preparation. What is virtual tax? A certified tax professional prepares your return remotely, based on information you provide through a secure website. Just drop off your tax information and they'll take care of the rest.
The tax preparer is not in the same location as you and uses the tax information you provide. The information is transferred through a secure web site to the preparation site. The certified professional will prepare the return remotely based on the information provided by you and sent by the intake site. This process will allow you to drop off your tax information and continue with your daily activities while your tax return is being prepared.
You'll need to bring:
KCC I.D (If a family member is filing, the student must be present with them)
W2s
1098 forms if you paid tuition
Original social security card
Sample check or letter from bank
All students filing married must come with their spouse
Childcare agency tax form or letter from provider
Feel free to drop by room E-115 during the tax preparations days and times and the certified tax preparers with your tax-related questions.
All of our services are FREE.
Walk-ins always welcome. Visit us in room E-115.